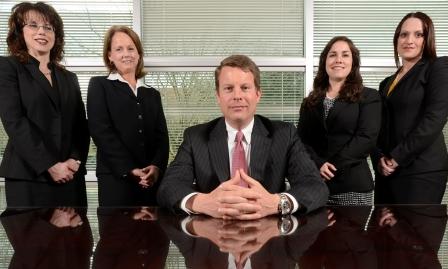 Law Firm To Relocate To Monkey Junction Office Park
The law firm of Hamlet & Associates PLLC will move next week from leased space in Barclay Commons to a new office condominium the firm has purchased and custom finished in the Monkey Junction area.
Firm principal Mark Hamlet said Tuesday that he and his associates and staff will move to its new space at 5215 Junction Park Circle, Unit 202 on June 26 and 27; the practice will reopen in its new location June 30.
Monkey Junction is "one of the few remaining areas of the county with available real estate, and it is uniquely positioned to grow," Hamlet said, explaining the firm's choice to locate there.
"We are excited that the opportunity presented itself to own our space and up-fit it from the ground up," he said, adding that the four-unit condo structure was developed in 2007 by John Vincent. Three of the four units were purchased and the interiors finished at that time, but the one recently purchased by Hamlet & Associates remained.
Architect Michael Kersting designed the new interior and McKinley Construction – which did the original construction – built it out, Hamlet said.
The firm is moving from offices of just under 3,000 square feet of space to quarters that measure about 3,400 square feet. "We will have the space for growth potential for two additional attorneys and staff to support them," Hamlet said.
Currently, the firm consists of four attorneys in addition to Hamlet. They are Rebecca Scherrer, Patricia Cowart-Coughlan, Nicole Slaughter and Jessica Soles.
Hamlet and Associates, formed in 2012, focuses primarily on construction, insurance defense, and commercial litigation, according to its website. It also provides legal services in areas such as civil litigation, business planning, and mediation.
By Jenny Callison
ARTICLE FEATURED IN WILMINGTONBIZ.COM